Real Vision's Daily Briefing is now available on INK Ultra Money Free. Daily episodes are released between the New York close and Asia market open Monday to Friday (except holidays). You will hear from a wide range of Real Vision journalists who provide updates on both the coronavirus situation globally and the current state of markets. The format provides a valuable, down-to-earth assessment of the opportunities and risks ahead.
Below is the link to the April 8th briefing.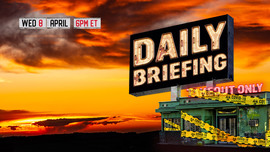 Daily Briefing for April 8th
The briefing is also a great way to stay on top of the big themes that are emerging on Real Vision. If you have never watched Real Vision, do not miss out any longer. Many of their guests, including CEO Raoul Pal, nailed the trajectory of markets over the past year. Their coverage helped me personally navigate a treacherous March. Looking ahead, Real Vision guests are keeping a close eye on the odds of reflation versus deflation and the outlook for gold and cryptocurrencies.