There is no better time than now to follow the insiders with us. Let the insiders guide you towards bargains that could potentially pay-off big once the COVID-19 clouds part. Join us today as a Canadian Insider Club Ultra member and save 50% on your 2020 membership. Redeem coupon NOJOKE50 at checkout. You will get immediate access to premium INK morning and market reports via the Canadian Insider store, and deep-dive Real Vision insight into today's market environment via INK Ultra Money. Join today and listen to today's Real Vision interview with Dr. Nouriel Roubini.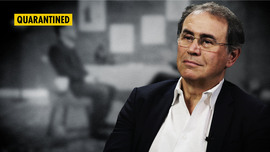 Great Recession or Greater Depression?
The coupon NOJOKE50 is only available for first-time Canadian Insider Club Ultra memberships. Your membership will automatically renew in a year's time at the regular rate unless canceled before renewal date (which is easy to do in the Membership Status tab after logging in). Get started now to listen to more Real Vision insight into potential generational investing opportunities that emerge from the COVID-19 crisis.